Excursion Banhs + Lunch Menu
Snowmobile ride 9 km round trip through the Aigüamog Valley to the Banhs de Tredòs Hotel.
ASCENT TO BANHS DE TREDÒS - 9:30 a.m.
Ascent 9:30 am from the Snowmobile parking.
Arrival at the Hotel, snowshoes and poles.
BANHS MENU - 1:30 p.m.
Homemade Pate Centerpiece with tomato bread and toast
Aranese pot
Grilled entrecote
Cheese flan
Coffee and Wine Viñas del Vero (Somontano)
DESCENT - 4:00 p.m.
Snowmobile descent back.
€135.00 per person on a two-seater Snowmobile
€170.00 per person on an individual Snowmobile
Child rates
from 0 to 2 years €30.00 on a Snowmobile guide.
from 2 to 10 years 50% discount (with children's menu)
Price per person VAT included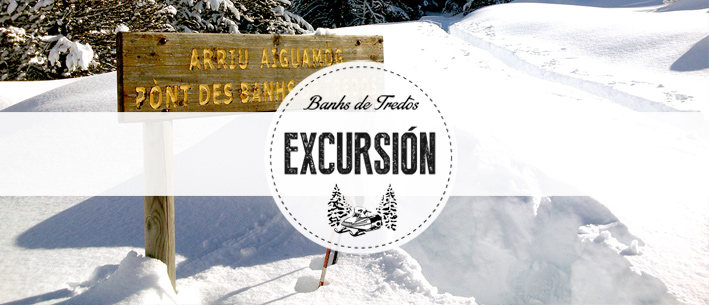 ---
important additional information
During the winter season, access to the Aiguamog car park from Salardu may require chains or a 4x4, so we will ask you for a contact telephone number that you carry on the trip and an operational one, to give you information on the status of that journey if necessary. .
As for the activities, it will be necessary to come equipped for the perfect development of it: Warm clothing, preferably waterproof, gloves, boots. Sunglasses.
For the snowmobile activity we will provide you with a full-face helmet, but if you prefer to come with your ski helmet, it will also be valid.
---
Transfer 4X4
SALARDU – AIGUAMOG WINTER PARKING (ROUND ROUND)
€15.00 per person
€40.00 (2 people guaranteed departure)
€55.00 (3 people guaranteed departure)
Cancellation policy
Cancellation of your reservation 72 hours before the time of your activity. REFUND OF THE FULL AMOUNT.
Cancellation of your reservation after 72 hours, LOSS OF THE FULL AMOUNT.